East Coast Bash!!! The Bible Burner!!!
05-07-2009, 02:30 PM
East Coast Bash!!! The Bible Burner!!!
---
http://www.clubloose.com/clubloose/p...pic.php?t=2502
Originally Posted by wiisass
As some of you know, recently Rich Bible took his own life. Rich was like a brother to many, an awesome dude and played a huge role making East Coast drifting what it is today.
We are dedicating this event to him and ALL Club Loose proceeds will go to benefit his daughter, Camila. E-town has also confirmed that they will also contribute to this cause and a portion of their profits will also be donated to Camila.
There will also be Under Destruction shirts and stickers available with the profits also going to Camila.
So whether your driving or not, everyone definitely needs to make it out to this. Besides possibly being the most awesome drift event to ever take place in the world, this is also for a great cause.
Event Details:
May 30-31, 2009.
On the road course.
Gates open at 9:30AM.
Driver's meeting at 10AM.
Driving starts immediately after driver's meeting.
Day is over at 6PM or when we lose interest.
Spectator Cost:
2-day: $25, pay at gate
1-day: $15, pay at gate
Driver cost:
2-day - $250 if paying with paypal it's $259.
1-day - $150 if paying with paypal it's $156.
If you're only paying for one day, you need to tell me what day you want to drive.
This is currently only open to Group A and B. C group can not drive at this event, but if Group A/B dudes are being sucky and not signing up, we might open it up to a few Group C dudes like we did for Weekend Killer. So keep an eye on this.
Oh and Group A will be hotlapping. It should be pretty sweet.
Cars must pass tech, I'll post full tech rules tonight. But use common sense, you guys can't be as dumb as it seems from looking at your cars. Battery tie downs are required. Fire extinguishers are highly recommended, I mean they're like $7 at home depot, just buy one. And all the other easy, safety type stuff, just make sure it's done. You will NOT be allowed to drive until your car passes tech.
Paypal is
[email protected]
If you want to send a check or money order, address is 876 Gainsway Road, Yardley, PA 19067. Make the checks out to me.
Registration will be open until 5/25/09.
NO payments will be accepted at the gate. If you have friends or know people that can't figure out the internet, tell them. It would be awesome if anyone who has a shop or goes to meets or whatever spreads the word.
So everyone send in your money if you're driving and tell all your friends. Everyone needs to make it out to this event. We have a lot of awesomeness planned for this, so let's make this huge.
Tim
Originally Posted by sprinter666
This Just in
Guest DRIVER LIST!
These guys will be doing demo's working with drivers who need help and hanging with everyone
hampshaaa
tangelo
JR
Chris
Fosworth
Blair Sato AZ drift maniac!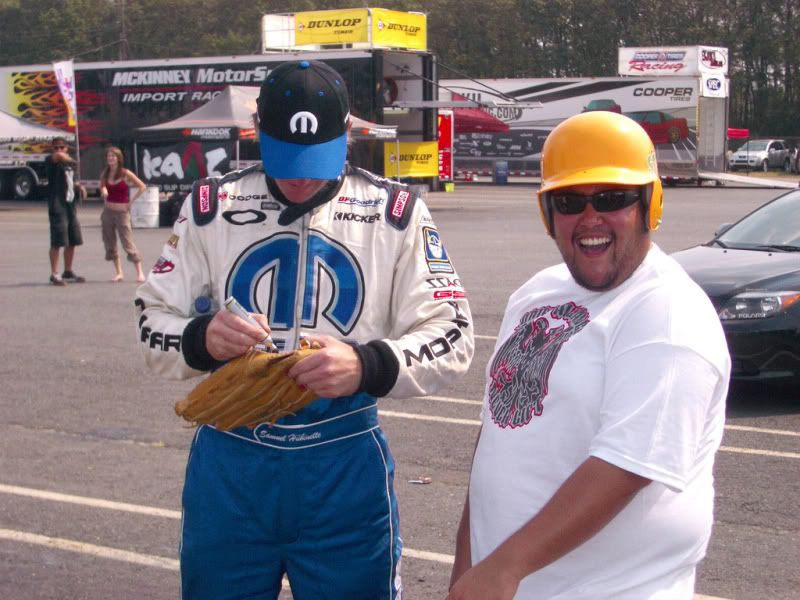 On the Maybe List
Joon Maeng
Ameen Rivisi
05-11-2009, 05:43 PM
05-11-2009, 05:49 PM


I'm debating on HIN this weekend or this...my brother says he doesn't care which one he goes to..I'd go to both but im broke after i buy my motor friday.
05-11-2009, 11:47 PM
05-12-2009, 06:52 AM
05-12-2009, 10:14 AM
Oh yea, i keep forgetting about those damn rules...

Theres 3 classes

A class : Rollcage is a must. You can tandem

B class : Dont need a cage. No tandem. Still allowed on track.

C class : This is where you start. Do good and get bumped into B class.

There is a C class event on May 27th @ 5pm ($40) that everyone is pushing for so they can get bumped into B class for the ECB.
05-12-2009, 11:33 AM
Yeeaaahhhhhh, see, I can't do that much in a row, I'd have to be in Jersey for a week, LOL! Perhaps we can hit something up next time, I'm definitely B or maybe even A Class material, I just don't have a cage and I can't hit that 27th event to prove the point, LOL! I'll be there within the spirits of the wanderers though . . .

-Dave