</3er *Henry's S12-----IT RUNS IT RUNS(start up video pg.90)
05-09-2007, 12:17 AM
Contributing Member
</3er *Henry's S12-----IT RUNS IT RUNS(start up video pg.90)
---
Hey guys, i decided to put up a thread for this shiz since only a couple weeks are left in school and i'm going to start doing work on the s12 soon. This build might take a lifetime, however ill try to actually finish the thing and make it run.
I'll be updating YES WITH PICS here every time something goes down
heres the list again
stuff lying around
-ka24de
-welded diff
-s13 suspension conversion components
-centerforce 2 clutch
planned/coming
-2 f1spec seats
-megan coilovers
-struts/sways
-bushing kit
-q45 calipers/rotors
-gut/paint interior
-cage
-lexan rear window
-intake, custom exhaust
-hockey puck motor mounts YEAH!
stuff thats in the air
-stitch welding chassis
-foaming stiffening
i think i might be missing a few things so ill list em as they come to me, im dedicating my entire summer to finishing this project so wish me luck. I've also decided that with the lack of places i have to do all the work, ill need to do it in my own so first things first, i have to clean the **** out of the garage(so much **** in it i can barely fit the s2k) and then start from there. here are a few pics for the sake of the new thread
when i first picked her up
pic with the garage queen
with the 2 autobanhs on the rear
yuta's old sportmax/30mm spacers with his flares taped on, looks ****ty at night
bought a ka24de
the equation
test fit picture of my stupid idea to attempt putting supra flares on my car which wont happen
my coming of "MAN" by investing in a nice set of craftsman tools (horray lifetime warranty) and not borrowing other's tools
my second investment, hoshinos
Initial D Arcade steering wheel(yes from the arcade machine, yes its a nice wheel)
Namco button from a maximum tune arcade machine(apparently they share the same steering wheels)
and thanks to yuta for the steering wheel and nismo buttplug(hes on the right)
enkei mesh and wheel falling off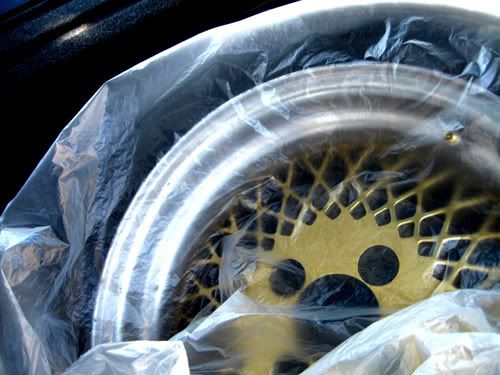 welded jack o lantern goes in
More to come, when it comes
---
Last edited by Ayuaddict; 12-24-2007 at

01:29 PM

.
05-09-2007, 04:17 AM
Hell yeah man. Good to see you got some nice plans for the car.
At least someone is actually working on their ish (SLAP for me)
05-09-2007, 08:54 AM
05-09-2007, 10:21 AM
Registered User
Join Date: Nov 2006
Location: Arizona
Posts: 261
Dang thats so sexy! And i like your tools! I need to get me some of them, all my tools got stolen...How much was that set?
05-09-2007, 11:13 AM
05-09-2007, 11:23 AM
i noticed all the cars you had, apparently you have money. what's funny is that you chose an S12. not what i would've thought of, but brownie points for being special, right? haha. good luck. i have so many plans too, but no money sucks donkey dick
05-09-2007, 01:19 PM
Contributing Member
thanks guys! this should be really dope when its done
I waited for a big sale at sears, and got an extra discount from a friend who works there so the set came up to $190
i think the set was almost 300 retail so just keep a lookout for sales and bargains
I only own the s2k and the s12, the pics with the mr2, 240, etc etc etc are taken at either rons or yutas place when we all get together and pretend to work on our cars
I wouldnt exactly say that im rich, in fact im a starving college student. The reason why i chose the s12 was because i've had my eye on this car for about 4 years(a friend dd'd it to school) and the summer before college, he sold it to me for 800 bucks and it was obviously taken cared of. it wasnt so much being "special" with this car but rather because it was cheap, rwd, and slow. not to mention it has no fanbase or aftermarket that forces me to DIY a lot of ****
How i obtained the s2k is a loooooooong story, and the small budget i have for this project is about a years worth of saving up. I wont lie though, theres a small part in that looong s2k story that involves rich relatives, guilt, and me getting spoiled.
05-09-2007, 01:40 PM
05-09-2007, 01:46 PM
Contributing Member
haha hell yeah cut saggy springs on blown shocks, rubs HARD
like it should
---
Last edited by yarou; 05-09-2007 at

01:49 PM

.
05-09-2007, 02:44 PM
Henry = pimp.
S12 as clean as that should be in a muesuem. Slow n sexxi Fa Sho!!!
More S2 shots, its so nice. And Yuta looks tough as hell in those pix.
05-09-2007, 02:51 PM
yea, why are there pictures of me on henry's thread?

haha.
Thread
Thread Starter
Forum
Replies
Last Post
S-Chassis Newbie / FAQs Forum
Private For Sale / Wanted