TW: RSR Exmag for S13
11-24-2006, 12:35 PM
TW: RSR Exmag for S13
---
Selling RSR ExMag for S13. One slight dent and minimal scratches. Works awesome, but need money to fund wheels. I'll part with it for 400 firm. Prett firm on price since it's still TW and it's the older version of the ExMag, the non-stainless steel one. This version is no longer made and I believe this one to be the better of the two if youre going for the whole sleeper look.
Clips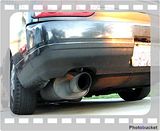 Pics:
IMO it sounds awesome, ask anyone who's seen or heard my car.
Sorry, no shipping right now since I'm just TW.
Thread
Thread Starter
Forum
Replies
Last Post
Private For Sale / Wanted
Service, Parts & Tuning Review
Private For Sale / Wanted