S13 t-25 to t-28 Turbo Swap
03-06-2006, 11:05 PM
S13 t-25 to t-28 Turbo Swap
---
Possible Sticky?
Ok, hopefully this will clear up any confusion during this swap. This is for people who have an s13 motor and want to put in a t-28 turbo out of the s14/s15. First off, I would like to clear up that the s14 turbo is not exactly the same as the s15, but it fits in the same way and you can do your own research if youd like to know the differences.
Parts needed (other than tools):
1. s14/15 turbo
2. s15 compressor inlet pipe
3. compressor outlet pipe from the ca18det or else modify like i did mine
4. Modify turbo lines(wich could result in poor fluid flow) better off to buy taka lines or something of that sort
5. lots of time to ensure a proper install
Ok, first off we disassemble the car. I took off the intake, hotpipe, and disconnected the bov and wastegate hoses. Once that is done you will want to undo your o2 sensor and set it in a safe place. Go underneath the car take off the middle hanger to your exhaust, and then unbolt the 5 nuts/bolts holding your tubo outlet to your turbo. Then slide the exhaust off to the side where it is out of your way. Now you can take out the oil/ coolant lines from the block and be prepared to have a small mess to clean up. Then unbolt the manifold and pull the manifold and turbo out at once(you may want to undo the boldt holding the dipstick so that you can have more room to move around). Now that u have everything out of the car, you are almost halfway, of course its always harder putting it back together. This is what you should look like so far: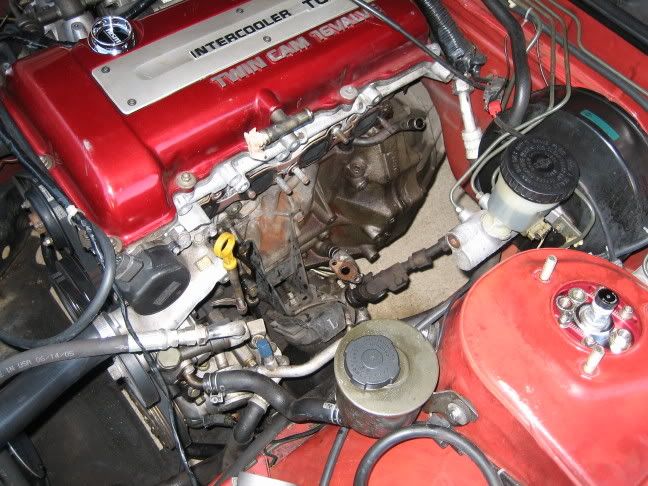 Ok not take the oil drain tube, get a circle file and file the holes until they line up, like so: (use some gasket sealant as well)
Now hook up your new oil lines, heres a comparison shot of the t-28 vs. the t-25
Next bolt the manifold and turbo together, as you can see i have the top of mine with a spot weld because ive been having trouble with it coming apart. Also if you did not save the little tabls from before, make some new ones like i did in this pic:
Alsways a good idea to use some good threadlock as well (high-temp)
Now your going to put the manifold/turbo in together, have someone hold from the top so you can connect the oil drain line back up. Then bolt in your oil/coolant lines and then the manifold. After doing so you can put back on the turbo outlet and exhaust. Once you're finished puting most of it back together you come up with 2 problems. The compressor inlet pipe is angled downward (which is why you want to buy the s15 one which i got from courtesynissan for $40) and the compressor outlet pipe is angled wrong as you can see:
You can get the ca18 pipe or do what i did, get some 3in. radiator hose with a nice 45 degree bend in it and cut the hotpipe as shown:
With the s15 pipe:
Once youve done this and you have your s15 compressor inlet, you can build your own intake like i did, or use the stock one. Here is a pic of the finished product (dont mind the gold, my valve cover will be gold soon as well):
Here is a quick recommendation, take your time and make sure everything is done correctly, have the parts before you begin the install, mine took 2 good days although it could have been done in one, but i mide sure i overlooked many things. Also if you havent and plan on doing so, go ahead and get your new manifold and turbo outlet pipe now while you have everything out that way you dont have to take it out again. Make sure you also hook up all vaccuum line, 02 sensor, and refill the car with radiator fluid/oil.
Here is a quick reference pic in the difference for stock outlet vs. new, believe me the manifold/outlet combo really helps for a quicker spool
I hope this really helps everyone out, its really not to hard to do and definately worth the money if your looking for more responce and a little bit more of power without going real expensive. Goodluck to everyone and feel free to pm me if you have any questions
03-07-2006, 12:02 AM
Contributing Member
Join Date: Apr 2005
Location: Anaheim Hills.
Posts: 986
Nice Write up!

FYI, Make sure you all use good metal Gasket. 10+ Rating Bolts/Nuts.

Trust me, once that thing starts backing out, burning off your cheap gasket, and give you a massive exhaust leak..you're going to regret it.

..and also, I could've of sworn you needed a Divided Turbo elbow for the wastgate on the S15 turbo..
Thread
Thread Starter
Forum
Replies
Last Post
For Sale - Engine / Drivetrain / Power
Private For Sale / Wanted
Private For Sale / Wanted