Kouki front bites the dust
09-18-2008, 03:13 PM
ah dosnt seem that bad and hell yea jdm kouki bumper ftw new or used fender and new corner light. i hurt my kouki front worse then you i broke a headlight and my c/f hood. my bumper corner lights and fenders survived unscathed and my jdm gril broke 1 tab but it was ok and still clips on tight as hell with 3 tabs.
$325 new oem hood and $200 on a used passanger headlight
went from this
to this
to this lol
anyway sorry to hear bout your car but atleast your ok and you car can be fixed easy.
btw was it your fault?
09-19-2008, 03:50 PM
Thinking about aero... hm hm hm.

Right now Im looking at using the money to buy a JDM kouki front/turnsignals new fender and parking lamp + paint and maybe some used coilovers. I think I'll do a wingless trunk. Anyidea how much it would cost to have that painted red?
09-19-2008, 07:40 PM
depends on who you go to and who you know lol. yea man get the jdm front that way when u hit a cone u wont have to ziptie the crack cause it wont crack polyurathane ftmfw.

also man wish u werent so far away i have a spare wingless trunk that im not gona use since my shell came wingless i personally love how it looks w/o a wing
09-19-2008, 09:52 PM
Contributing Member
Join Date: Apr 2003
Location: Cali
Posts: 1,432
Sorry to see the pain...

but it aint all that bad lol

JDM stock signals should only be about 40 bucks lol

But you have to hard wire them in since the USDM signals wont fit...

But all worth it!
09-19-2008, 10:38 PM
dont need to hard wire them since jdm bumper dosnt have corner lights like the US bumper cut the plug off and splice it to the turnsignal wire and it will plug in to the jdm turnsignal
also oem jdm turn signal average for about $90-120 IF you can find them or u can get the ebay clear ones for like $20-40 lol
09-28-2008, 12:19 AM
As it sits right now after the drift practice day.
I just want to toot my own horn.
I've driven the car for a year, open diff. "Drifted" twice, both times in the rain; my car is automatic.
Wednesday 9pm: Make shirts for event
Thursday 7am: Get home from staying up all night making shirts//install j30 VLSD
9am:Go to work
4pm: Get off work//get tires mounted on SE wheels
6pm: Arrive at HPT and get tech'd
6.30pm: DRIFT
and drift I did, after 2 runs on a basic figure 8 lot I moved to our advanced course where I was doing top of 2nd feint initiations into our big sweeper. I was really proud of myself considering I was drifting the ENTIRE sweeper with a COMPLETELY stock car, while there were cars with coilovers AND boost that were failing completely!
videos of the course with my friend Bryan's daily s13
[Stock KA24DE//Blown JIC's//j30 diff... thats all folks]
Outside of car
http://www.youtube.com/watch?v=Me855...eature=related
In car
http://www.youtube.com/watch?v=dpEav...eature=related
There were no videos of me since I got there so late
Heres kinda proof [I'm in the bad *** green hat, holding a tech sheet]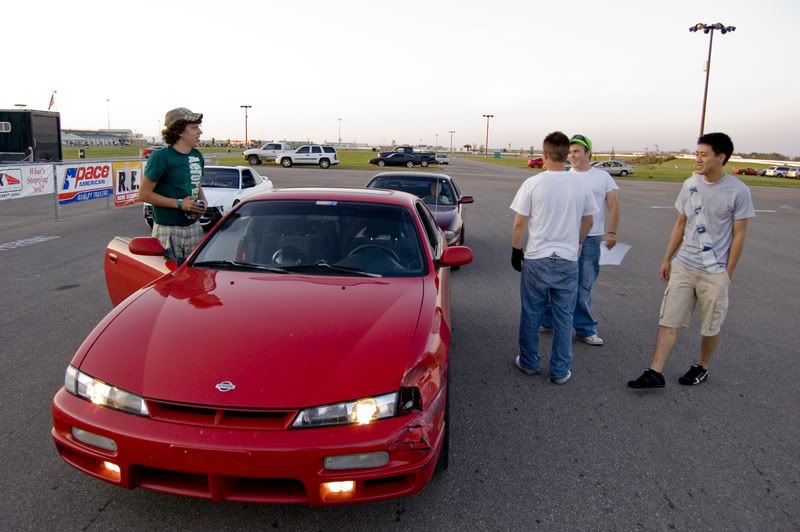 Thread
Thread Starter
Forum
Replies
Last Post
For Sale - Wanting To Buy (WTB) Or Trade (WTT)
For Sale - Wanting To Buy (WTB) Or Trade (WTT)
For Sale - Wanting To Buy (WTB) Or Trade (WTT)
Suspension, Chassis, and Brakes