Corrado Build
12-30-2005, 09:12 PM
Registered User
Join Date: Oct 2005
Posts: 12
Corrado Build
---
Someone suggested that I posted the build up of my Corrado in the off topic section. Mods do what you please, but it will end up being a pretty informative thread.
To start, here are my prerequisites:
http://www.club240.com/forums/showth...threadid=28361
I like to do this:
The Jetta is my daily driver that doubles as my auto-x car. Its slow as hell in a straight line, but it beat that silver ***** of a 240sx last event
So I wanted a car that was primarily going to be for auto-x and weekend fun. I decided to build my Corrado instead of parting it out. Here are the specs/plans:
1992 Volkswagen Corrado
2.8L VR6
16x,xxx neglected miles
Dark Burgandy Pearl
Tan leather interior
I've since bought 2 VR6 engines to play around with. Both are the later OBD1 coil pack VR6's. The original distributor engine is gone. The car will have a minimal interior, and it will be black. The Mk2 Recaro Trophies will be recovered in black and installed in the Corrado. The exterior will be painted Cinabar, a color only available on 96 VW Cabriolets. Major work will be focused towards the suspension. The entire unibody will be seam welded, primed and painted first. The powerplant will be a home built VR6 turbo. I want it to be stealth so Im either doing an air-water intercooler, or twin side mount intercoolers with black piping. My goal is ~300whp. Peloquin LSD to put the power to the ground. Thats all of the major ideas that I have so heres some pics.
The only crappy pic of how I got it from the PO
More recent pic (don't mind the half finished dent in the back)
I was going to part it out because of a rusty quarter that would have come back to haunt me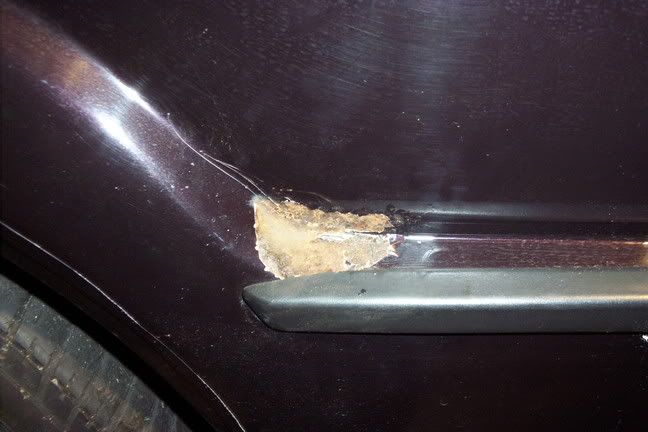 Then I found a quarter for sale
So I decided to replace it myself
Removing all of the sound deadening material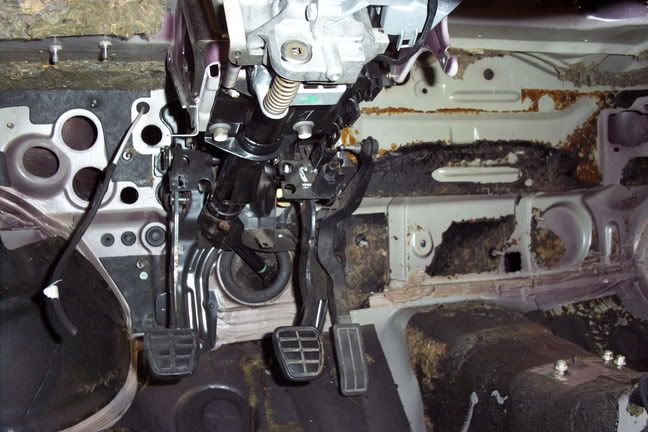 Thats all for right now. I haven't had time or space to work on it in the last week because I was getting the engines for it. I'll update this every week or so if theres any interest.
Oh yeah, and like the silver 240, all work will be done in my garage. Comments are welcome. Enjoy
12-31-2005, 11:31 AM
Registered User
Join Date: Oct 2005
Posts: 12
I've been working on cars with my dad ever since I was a kid. He was a mechanic when he was younger, so most of the basics I learned from him. He never gave body work a try though. A few years ago my younger brother backed into a trailer and banged up his rear quarter pretty bad. He let me try to fix it, and I came to realize that using a hammer & dolly wasn't that difficult.

In the past 3 years I have been getting more and more into working on cars. Getting into VWs really stepped it up for me. Building my buddies 240 was the biggest job either of us have done. He had just totaled his Mk4 GTI with a GT28R that we put in. We've both replaced engines before and know our way around cars pretty well. Working with him was great because it seemed like if I couldn't trouble shoot a problem, he could and vice versa. At times we would be handing each other tools without even having to ask for them.

As for thoroughness, at times he would ask my opinion on how to do something on his 240 and I was the one saying, "do you want to do it ghetto or do you want to do it right?" He always agreed on doing it the right way. We didnt take any shortcuts when building that car. Im very pleased with the outcome.

I hope that my car comes out as nice, or even nicer than his 240. I would love to open a performance shop one day, building clean, fast cars. I'm considering getting ASE certified. I do it all of the time anyway, why not get paid for it?
12-31-2005, 03:20 PM
nice dude! I've always been a fan of the corrado, they are a dying breed.
I actually was cruising around with one the other day, never seen the guy before. I just fell in line behind him and we were ripping around town.
He was fully built, very nice.
Good luck dude!
Thread
Thread Starter
Forum
Replies
Last Post