300zx Coilovers in 95 s14
03-09-2009, 07:04 PM
300zx Coilovers in 95 s14
---
I upgraded my s14 brake calipers to z32 calipers, and i bought a used 300zx rear e-brake assy on line, and lucky it come with the alum knuckles, and is such a wast not to use it on my s14, but i find out i need z32 strunts for the rear, so im planning may aswell upgrade it too, so i need z32 coilovers, but before i buy one could any body tell me if the z32 front strunt mount holes are same as s14? will z32 front coilovers bolt directly in to my s14 front knuckles (upright)? or should i keep it simple and just forget about the alum knuckle and get s14 coilovers? i also heard magen coilovers makes a sleeve that will fit rear z32 knucle, but how about the front? any body done a swap like this before? please help me out thanks!
03-10-2009, 10:26 AM
so 300zx front strunt/coilovers won't bolt on to s14 front knuckle/spindle. ok then my plan is to get magen coilovers for s14, then i will also get the rear strunt lower sleeves from magen to fit the rear coilover to the 300zx rear knuckle. will this work?? is magen coilovers good? are they good brand? or is there other coilovers that are better and will work?? thanks!
03-10-2009, 01:22 PM
Registered User
Join Date: Mar 2007
Location: Amarill0 & Dallas, TX
Posts: 249
i Think he wants to use the 300zx aluminum knuckles for the rear. I think you can fit any rear coilover that was made for the rear 300zx.
Originally Posted by
positron
I did the Z32 rear brake upgrade today...
blah blah
...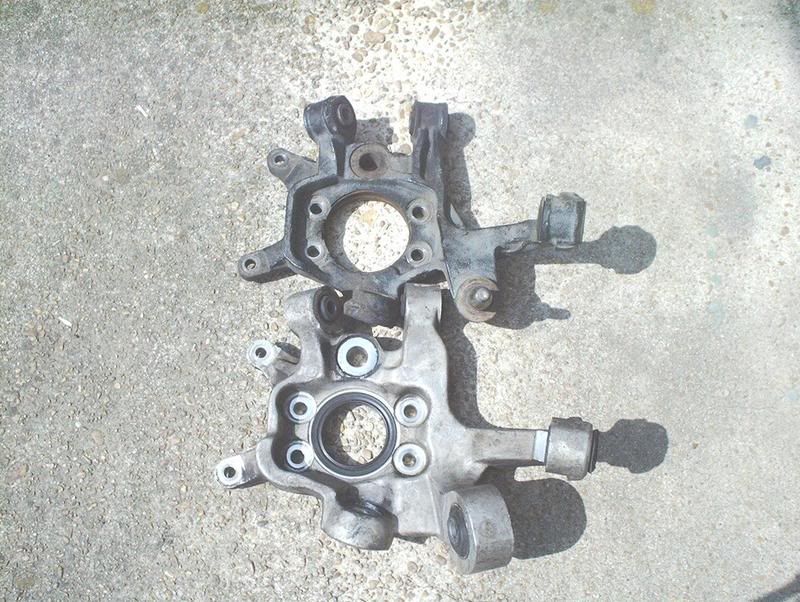 Here's the comparison between the 240SX spindle(top) and the Z32 spindle(bottom). The 240SX spindle is iron where the Z32 is aluminum. I would have liked to use the Z32 which is 7lbs. lighter but I would have had to get coilovers or Z32 shocks/struts because as you can see the only thing different is where the strut to spindle mounts are. They are completely different.
I think this should help this thread.
---
Last edited by FuriousZ; 03-10-2009 at

01:28 PM

.
03-10-2009, 02:34 PM
Registered User
Join Date: Dec 2008
Location: SC
Posts: 48
SPL-Parts, the make there own coilovers that have the option for Z32 rear knuckles. They have gotten pretty rave reviews on other forums SPL KTS coilovers
http://splparts.com/main4/index.htm
Thread
Thread Starter
Forum
Replies
Last Post
Suspension, Chassis, and Brakes
Private For Sale / Wanted
Suspension, Chassis, and Brakes
Private For Sale / Wanted
Private For Sale / Wanted